Sveta Sotnikova
Entitled, "De Fabrica",
Sveta Sotnikova
's final year project, and her first brand collection inspired for S/S 12, is a fascination with the construction of the human body. Set the difficult task of using leather; an unforgiving texture with very little room for error, but a welcomed challenge; she explores her fetish for leather, yet more importantly, demonstrates the skilful craftmanship of the London-based designer and delves into a world of darkness to produce cutting edge designs.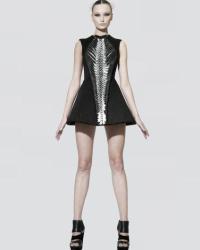 Using blue prints - to assist with the pattern design - to construct the hand-crafted pieces is a daring attempt at juxtaposing femininty and the fragility of the leather in search of inner strength and power, notwithstanding the beauty and emphasis of quality. The manipulation and tangible layers of leather gravitates to exposing the most intimate images of restructuring the human form. Forever an unconvetional form of applying architectural design to fashion, this collection's stringent attention to detail appeals to the unconventional woman whose strength is not for the fainthearted.
Images Courtesy of Spindlemagazine.com
Already snapped up by
POP
PR for her architectural spin on the construction of avant-garde designs, the newly graduate of London College of Fashion is fast heading in the direction of her own inspirational designers of Ricardo Tisci at Givenchy and the new generation of greats for their take on couture like Gareth Pugh and Christopher Kane.